Yes, you can use your Mevo Camera in OBS by streaming to a custom destination using RTMP. In this guide I'll walk you through setting up an RTMP on a Mac with a simple, free utility called Local RTMP Server for macOS.
The RTMP specification is a streaming protocol initially designed for the transmission of audio, video, and other data between a dedicated streaming server and the Adobe Flash Player.
And because Flash was widely adopted, RTMP quickly became a standard. RTMP is a TCP-based protocol designed to maintain persistent, low-latency connections – and by extension, smooth streaming experiences.
Even today, a majority of encoders can transmit RTMP and most media servers can receive it – including social networks like Facebook, YouTube, and Twitch.
Interested in learning more about the RTMP protocol? Check out this guide.
Setting Up a Local RTMP Server
The first step is choosing an RTMP Server. There are a few options out there including Mist Server, but that can be slightly more complicated to setup. For this guide I've chosen Local RTMP Server by Sallar Kaboli.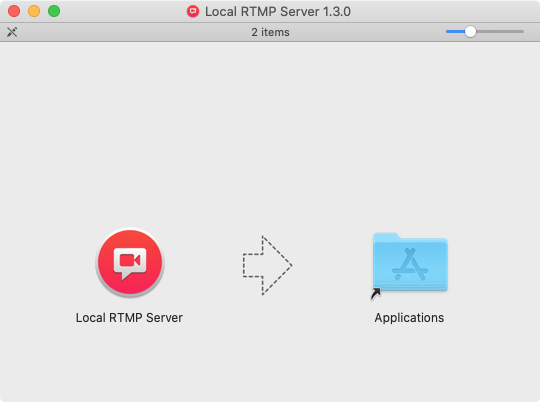 Step 2: Once mounted, drag Local RTMP Server to your Applications folder.
Step 3: Launch Local RTMP Server. You should see the application in your top menu bar.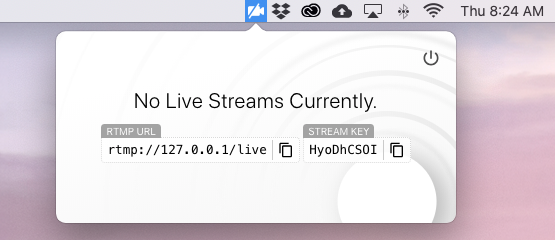 Once you launch Local RTMP Server a randomly generated streaming URI is displayed. This information will be used to send a stream from another device on the LAN.
This next part is very important, on macOS use Network Utility to get the IP address of the local machine instead of localhost (127.0.0.1).
For example, if the LAN address of your desktop is 192.168.1.10, you'll specify the destination as rtmp://192.168.1.10/live/ in Mevo.
Configure the Mevo iOS App
Once you've completed the setup of Local RTMP Server you can turn on your Mevo Camera and launch the Mevo iOS App.
Step 1: Tap the Red Button in the bottom left corner of the live view screen.
Step 2: Under Streaming Destinations, tap on the RTMP+ icon.
Step 3: Tap on "+ New RTMP" to add a new destination.
Step 4: Enter a name for your destination, in this example I called it "Desktop."
Step 5: Enter the Stream URL to your local machine as identified in the previous section.
Step 6: Enter the random Stream Key as identified in Local RTMP Server in your top menu bar.
Step 7: Press Go Live to test your stream and proceed to the next section.
Note, if you use a different Local RTMP Server, at this time, Mevo does not support RTMP destinations that require authentication (i.e. a username and password).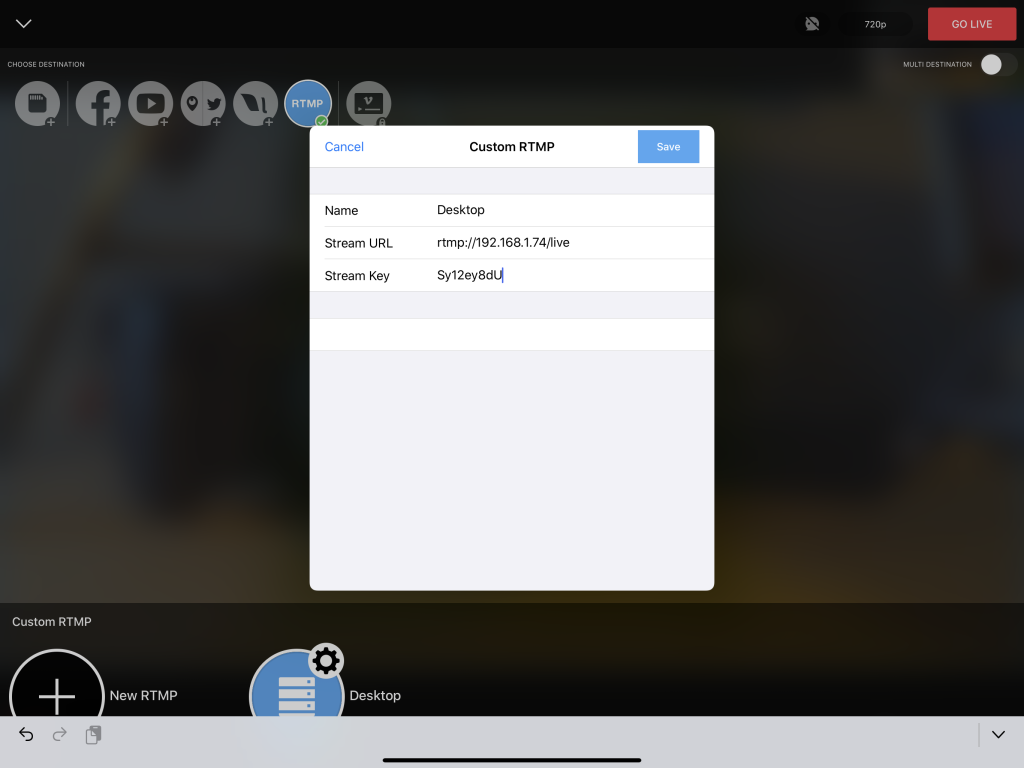 Configure Streamlabs OBS
Now that you have your Mevo iOS app configured you should be receiving a stream from the Mevo Camera to your local machine. To confirm that you are connected click on Local RTMP Server in your top menu bar and you should see connection details.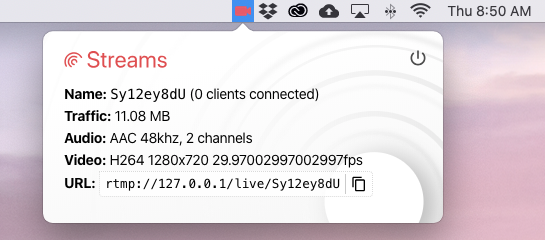 Now it's time to open Streamlabs OBS and begin configuration. The first step is to add a new source by clicking on the "+" button under sources and selecting Media Source and clicking on "Add Source" in the lower right hand corner.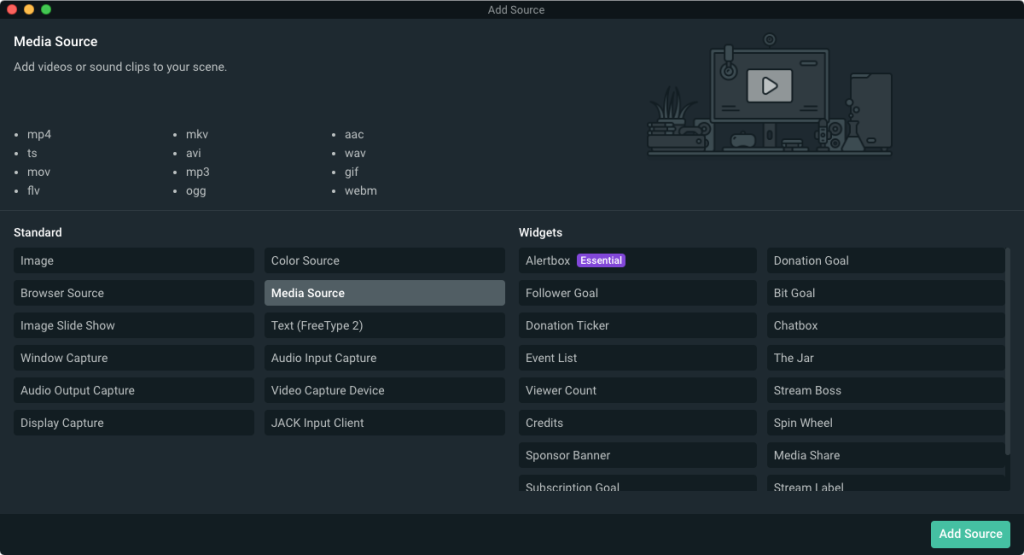 The next step is to provide a name for the new source, in this case I've named it "Mevo Camera." You can then click on "Add Source."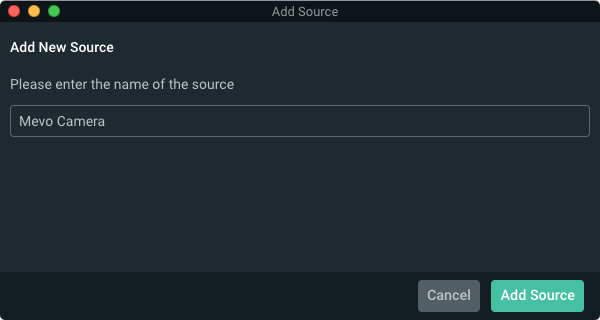 From here you'll see the "Settings for Media Source" screen and you need to uncheck the "Local File" checkbox.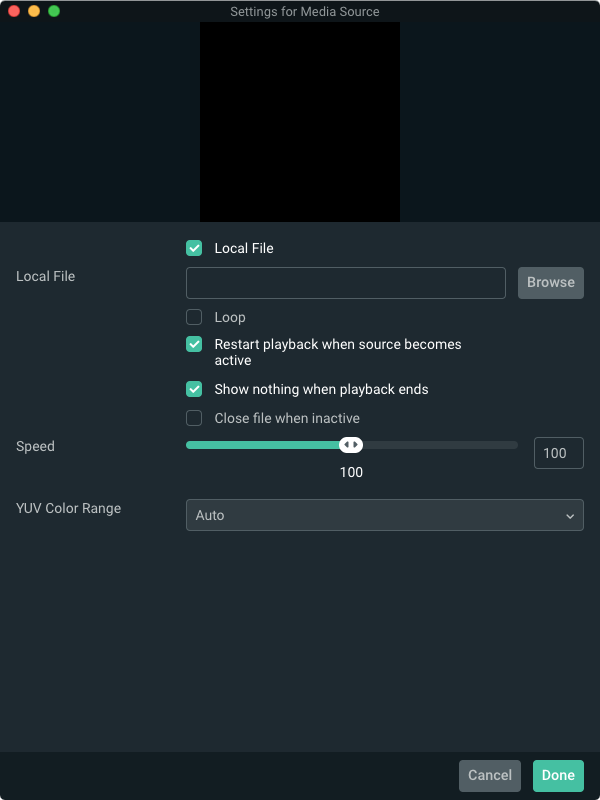 After you uncheck "Local File" you'll see two new fields labeled "Input" and "Input Format." In the "Input" field you'll enter the (localhost) RTMP URL which you can easily copy and paste from Local RTMP Server application in your top menu bar.
The 127.0.0.1 address is pointing OBS to your local machine, with the Stream Key appended to it. After you enter the RTMP URL you should see a preview from your Mevo Camera. If everything is successful you can click "Done."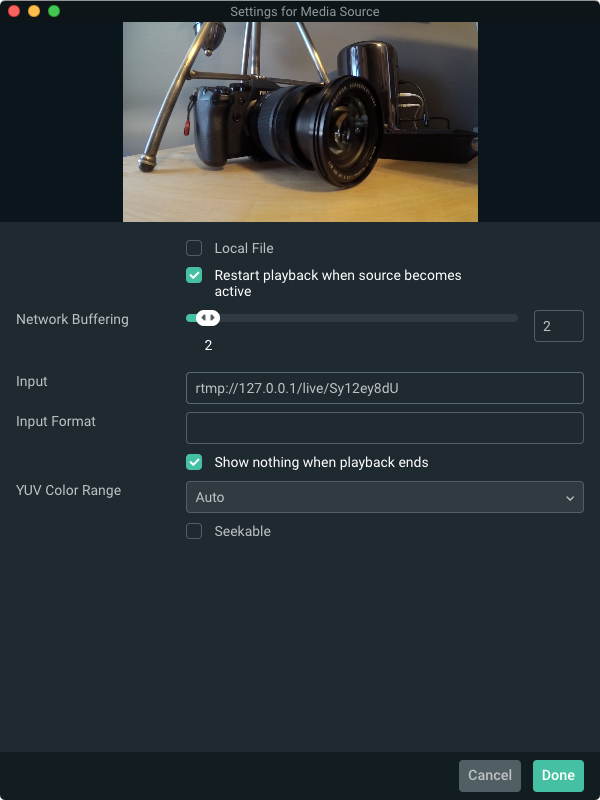 Windows Machines
Looking to connect your Mevo Camera to a local RTMP server on a Windows machine? There are a few free options for local RTMP servers like MistServer or MonaServer.
If you need some help, I highly recommend Gavin Gration's guide that walks through setting up MistServer. If you're looking for an easier solution, check out his guide using GoPro2OBS. Unfortunately a GoPro2OBS license costs $80.
Closing Thoughts
There appears to be about a 250ms delay using the Local RTMP Server and Mevo Camera. So as you look to use it as a main, or secondary, camera to your streaming package you'll want to account for that.
Finally, as a member of the Mevo Customer Group on Facebook I've seen that Mevo is working on USB Drivers for their cameras.
Why is this important? With native USB Drivers on a PC or Mac you'll be able to use your Mevo Camera as a webcam. This should make it easier to add as a source in Streamlabs OBS or any other streaming software.
April 16, 2020 Update: According to an article on USA Today, Max Haot indicates that to get Mevo to work with the videoconference apps such as Zoom and Microsoft Teams, he'll release an app, "Mevo Webcam," for computers in May. "It will make Mevo appear as a webcam with any software," he says, but it'll have the Mevo twist of being able to alter the image by zooming in, record the audio to a separate memory card and stream to places such as Facebook without having to use a computer or phone.